St. Joseph School Masking Policy 2022-2023
FROM THE OFFICE OF CATHOLIC SCHOOLS....
UPDATED: February 22, 2022
As you may know, the Appellate Court for the 4th District issued a ruling on February 17, 2022 on the appeal of the Temporary Restraining Order (TRO) issued by the Sangamon County Circuit Court on February 4th concerning the so-called "mask mandate." The Appellate Court denied the State's appeal as moot because earlier this week, the Joint Commission on Administrative Rules (JCAR) did not extend the emergency rule implementing Executive Order 24 (Austin v. Pritzker, 2022 IL App (4th) 220090-U).
The TRO issued by the Sangamon County Circuit Court on February 4th restrained the State from ordering school districts to require:
· a mask without a quarantine order,
· tests of unvaccinated persons, and
· exclusion of students or teachers for close contact.
Because of the Appellate Court's ruling, none of the rules found by the Sangamon County Circuit Court to be null and void are currently in effect.
In light of these developments, the Office of Catholic Schools has determined the following:
1. The wearing of masks in our Catholic schools by students, staff, and volunteers is optional, provided that social distancing of 3 ft. or greater is to to be maintained to the best of the school's ability.
2. Unvaccinated staff members are no longer required to provide proof of weekly testing.
3. Schools are no longer required to conduct contact tracing.
4. Any student or staff member displaying symptoms of COVID shall be sent home.
· To return to school, students and staff must have a negative COVID test result (home tests are not accepted). If the COVID test is negative, they shall remain at home until they are symptom free for 24 hours.
· Without a negative COVID test, students and staff must isolate at home for at least five days and a maximum of ten days, until symptom free for 24 hours.
· Unless the student or staff member receives a negative COVID test, they must continue to wear a mask for 5 additional days after returning to school.
· COVID positive students and staff must quarantine for 10 days out of school if they do not wish to wear a mask upon their return.
· Athletes may resume participation in practices on Day 6 and competition on Day 11.
5. Siblings of a COVID positive case no longer need to stay home as long as they remain symptom free.
6. All students shall attend in-person learning unless they are excluded from school due to COVID mitigation procedures.
7. Remote learning shall be made available for those students who are out of school due to COVID-related symptoms and/or a COVID positive test result.
UPDATE AS OF: February 9, 2022
Dear SJS Families,
I wanted to provide you with a few clarifications regarding policies and procedures at the school. This information is as of today, February 9th, 2022. Please be advised that the Catholic Diocese of Peoria has instituted a masks optional decision as of February 8, 2022. The Diocese has asked that our Catholic schools not be responsible for monitoring whether a student is wearing a mask. We will do our best to support the instructions that parents have given to their students regarding mask. We are no longer requiring a negative test result for staff or volunteers in our school building. When visiting our school parents will follow the same guidance as our staff and students. If your student shows a symptom the school will be calling to have the parent pick them up. To return to school, the student will need a negative test result, or quarantine for 10 days from beginning of a symptom. If your student tests positive, they must isolate from school for 5 days. The student can return to school after the 5th day, if no symptoms are present. They will have to mask 100% while at school which includes the classroom, both indoor or outdoors recess, PE ,and Music. They will also have to sit separately at lunch until they have completed 10 total days of quarantine. If the parent preferred to not have the student follow these guidelines then the student will need to remain out of school for the 10-day isolation period. We will continue to follow IDPH guidance in relationship to physical spacing, requirements for testing, cleaning and disinfecting protocols. At this time, our Catholic schools will not be providing e-learning. If parents choose not to mask or to mask and do not attend school. E-learning is utilized by some teachers when students are out due to Covid restrictions , but this is up to each teacher. The St.Joseph School staff will continue to strive to do our best to make adjustments that support the learning and care of each one of our students.
We Pray Here,
Mrs. Sarff
Principal
St. Joseph School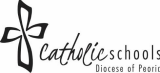 TO: Parents/Guardians
CC: Most Rev. Daniel R. Jenky & Most Rev. Louis Tylka Bishops of Peoria
FROM: Dr. Sharon Weiss Superintendent of Schools
DATE: August 9, 2021
RE: Opening of New School Year & COVID-19 Masking Mandate
On Wednesday, August 4, 2021, Governor J.B. Pritzker issued an Executive Order in which he mandated the wearing of masks for the opening of the 2021-2022 school year. Administrators, teachers, staff, students, and volunteers in all public and nonpublic schools in the State of Illinois, whether vaccinated or non-vaccinated, will be required to wear masks.
The Office of Catholic Schools (OCS), has received concerns regarding the diocesan directive that our 42 elementary and secondary schools will comply with the Governor's Executive Order. The purpose of this memo is to clarify and explain OCS' decision to require the wearing of masks to begin the new school year.
During a world-wide pandemic, the governor has the authority to declare a public health emergency and to order schools – public and nonpublic – to comply with the Illinois Department of Public Health's advisement to wear masks and implement other measures in order to mitigate the spread of COVID-19 and its variants. As reported, positivity rates for COVID19 and the Delta variant are climbing throughout the state which is cause for great concern.
Any school – public or nonpublic - which chooses to be defiant may have several adverse things occur. The Governor can take measures which will directly affect the continuing operations of the school, up to and including closing a school that refuses to comply.
Catholic Mutual Group, our diocesan insurer, recommends that all members follow the CDC/state/county/local mandates or guidelines. Disregarding them could be considered gross negligence associated with the COVID-19 response and could subject the schools to unnecessary liability.
As Superintendent, I will not put our schools at risk by not complying. Our bishops have directed OCS to ensure that our Catholic schools do comply with the Governor's mandate, thus ensuring a safe environment for in-person learning to occur. I ask for your understanding and assistance. Subsequently, if our parents/guardians send their younger children to school without a mask or if our older students refuse to wear a mask, these students will be immediately sent home. If this situation persists, our principals have been directed to contact families with the message that their student's enrollment will be terminated if the policies and regulations of our Catholic school are not followed.
The Catholic Church's mission in her schools is to educate children in an environment where the Gospel of Jesus Christ is shared. It is a tremendous privilege that we have been given by Christ in our vocations as educators, and I certainly do not want to interrupt the Church's mission in any way. It is not our intention to terminate ANY student's enrollment, but we will be forced to if there is not compliance.
I respectfully ask for your cooperation in helping us provide the best opening of a new school year that we can possibly provide while still in the midst of an unprecedented pandemic.
Thank you.
---
Statement from the Superintendent of Schools
For Immediate Release: 08.04.21
With the approval of Most Reverend Daniel R. Jenky, CSC and Most Reverend Louis Tylka, the Office of Catholic Schools will be directing our 42 diocesan elementary and secondary schools to comply with Governor JB Pritzker's Executive Order mandating the wearing of masks for in-person learning in our schools.
In his press conference, the Governor noted that to support safe in-person learning requires that masks be worn indoors by all teachers, staff, students, and visitors in our PK-12 schools, regardless of vaccination status.
The Catholic Diocese of Peoria has the greatest concern and care for God's children, and we will do what is required by the Governor to hopefully, eradicate COVID-19 and its variants.